Article source: www.weatherview.in
On 12th June 2017, Monsoon was set over Mumbai but immediately it got subdued due to no low pressure systems.
Here are some facts about rainfall during the period of June to September.
The normal date of monsoon over Mumbai is 10th June, but the dates had been fluctuating. In some years the monsoon was delayed considerably while in some years it had been very early.
Here are some statistics for onset dates over Mumbai:
1) Early onset – 29th May in the year 1952, 1956, 1872
2) Late onset  – 25th June in 1962
Below is the chart of monsoon dates over Mumbai for last 67 years. (Data source: IMD)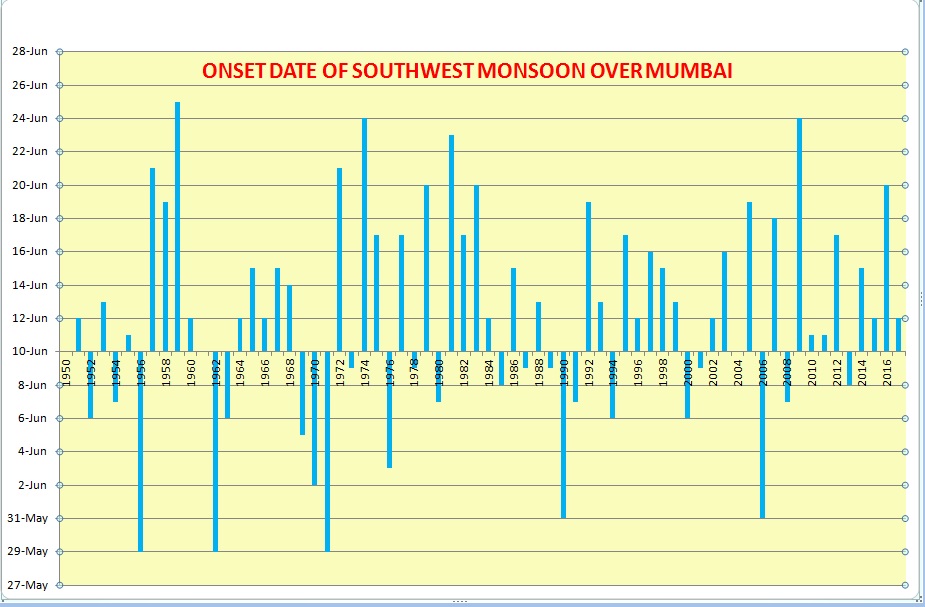 (Click the image to see enlarge image)
The average seasonal rain that is rainfall from June to September is:
1) Santacruz is 2265 mm.
2) Colaba is 2025 mm.
The extreme rainfall events in Mumbai:
Colaba

10 June 1991

478 mm

5 July 1974

576 mm

3 Aug 1881

287 mm

10 Sept 1930

548 mm

Santacruz
10 June 1991

399 mm

27 July 2005

944 mm

23 Aug 1997

346 mm

23 Set 1981

318 mm
Article source: www.weatherview.in