Top Cafes in Mumbai for a Perfect Hangout
Mumbai is known for all the extravagance with cafes, vibrant streets, night clubs and bars. The Mumbaikars mostly love to cozy up with their friends or with themselves at a cafe in the neighbourhood. These cafes in Mumbai let you unwind with your best buddies around, a book in solace or great choices in caffeine accompanied by quality delicacies.
If you are looking for a great place to grab a cuppa, Mumbai is a hub to many cafes where you would be spoilt for choice. From adorned memories to timeless ambience for every mood – follow our list for the best cafes in Mumbai:
Birdsong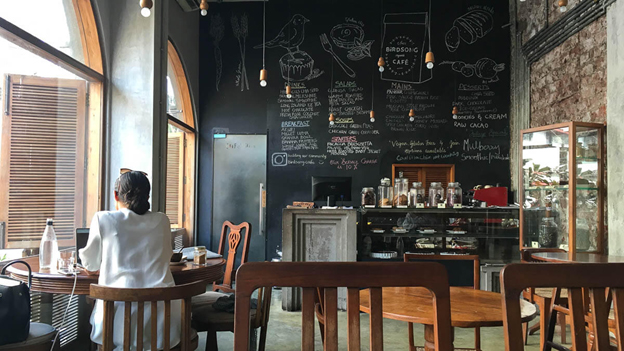 The Organic Cafe, Bandra With a cozy feel, red-bricked walls and rustic wooden chairs – this cafe is your perfect spot. They serve breakfast all-day with mains and sumptuous soups. If you are looking for great vegan and gluten-free options, you would not be disappointed here!
Location: Shop 1-5, Waroda Road, Hill Road, Bandra West
Opening Hours: 9:30 am – 11 pm
Average Cost: ₹1,600 for two people (approx.)
Don't Miss: Hot chocolate and Vegan options
Prithvi Cafe, Juhu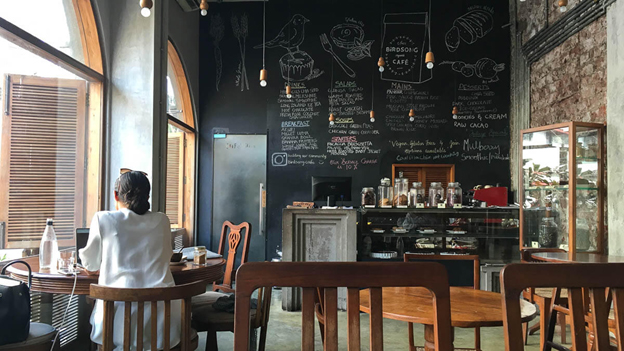 This is a bohemian cafe at the Prithvi Theatre with an outdoor space where Irish coffee, snacks and chai are served. The open-air cafe resembles an oasis with a gorgeous canopy of hanging lanterns, plants, trees and bamboos. This cafe is perfect even during the peak of summer, the best when the night is lit with amazing crowd.
Location: 20, Janki Kutir Apartment, Alongside Prithvi Theatre, Juhu Church Rd
Opening Hours: 10:30 am – 10:30 pm
Average Cost: ₹400 for two people (approx.)
Don't Miss: Stuffed parathas and cutting chai
Kala Ghoda Cafe, Fort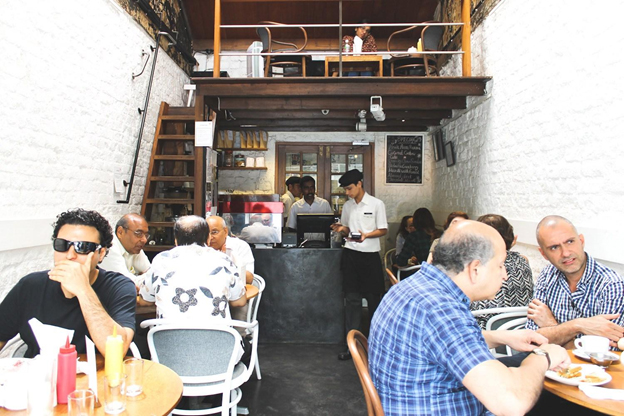 With an artistic ambience and interiors that are so vibrant, you will always feel 'for the first time' to this cafe. The cafe has an in-built gallery and is set in a 20th-century barn at the heart of Heritage Art District, Mumbai. With so much to art, this cafe is a favourite for people with artistic sensibilities and background. Here, you can't miss the essence of great brunch options and home-grown organic options in caffeine.
Location: 10, Ropewalk Lane, Kala Ghoda, Fort
Opening Hours: 8 am – 11:30 pm
Average Cost: ₹600 for two people (approx.)
Don't Miss: Italian blended coffees, Egg Sandwiches, Masala Chai, Waffles
Grandmama's Cafe, Juhu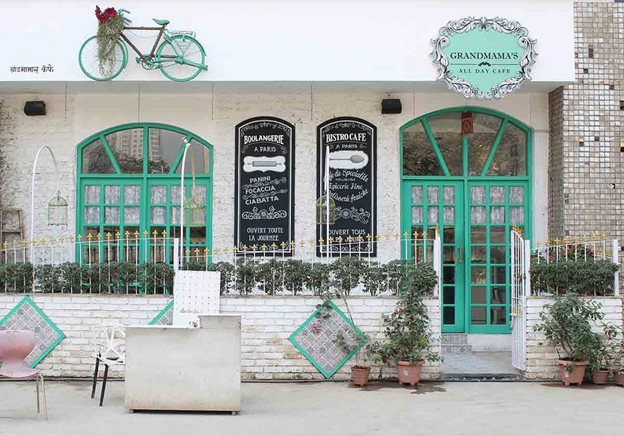 With adorable decor, the entire cafe has a European aesthetic touch to it with Dutch windows, pastel flowers and framed quotes. With a vibe of grandma's from all across the world, the cafe is as lively and cozy as your grandmother's home. The cafe serves unique delicacies from grandmothers, with Shepherd's pie and home-like cuppas of coffee under one roof.
Location: Hotel Royal Garden, Juhu Tara Rd, Shivaji Nagar, Juhu
Opening Hours: 9 am – 12 midnight
Average Cost: ₹1,500 for two people (approx.)
Don't Miss: Mac and Cheese, Hazelnut Mocha and Affogato
Garde Manger Cafe, Ville Parle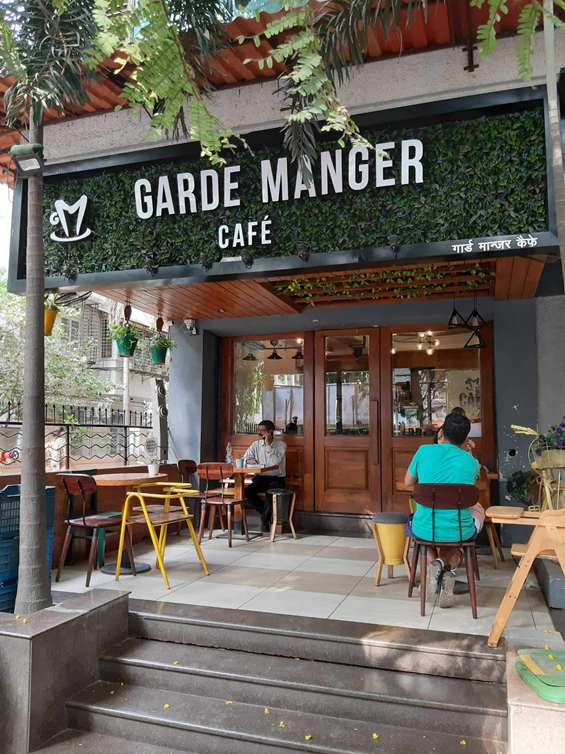 With a homely vibe, this spot is the most trusted cafe in Mumbai with indoor and outdoor sitting. You can sit here for hours with their Tuna sandwich, a mug of coffee or some pasta. It is also reviewed as a great place to hang out with friends, surrounded by a chic-vibrant atmosphere. The cafe is also known for its fully equipped cold kitchen, DIY dishes and vegan menu.
Location: Parmar CHS, Paranjape B Scheme, Near Mahila Sangh School, Vile Parle East
Opening Hours: 10:30 am – 10:30 pm
Average Cost: ₹1000 for two people (approx.)
Don't Miss: Berry Blast, DIY salad, DIY pasta, Vegan dishes
Cafe Mondegar, Colaba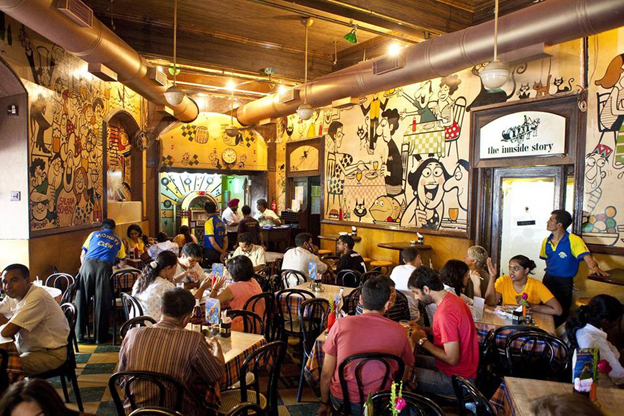 This cafe is an ode to Mario Miranda, the famous Indian cartoonist from Goa. It has exceptionally beautiful and painted murals from him all over the cafe. Founded in 1871 as Mondy's, the cafe serves an eclectic mix of American, English and Parsi breakfast to the visitors – bringing them back to the retro times with Mario Miranda caricatures and a Vintage Jukebox.
Location: Metro House, 5A, Shahid Bhagat Singh Rd, Apollo Bandar, Colaba
Opening Hours: 7:30 am – 11:30 pm
Average Cost: ₹1300 for two people (approx.)
Don't Miss: Watermelon Juice, American Burgers, Plate of Ham-Bacon-Sausages, Seafood
Events, Fests, Workshops Foodies can Attend to Enjoy Delicious Food With a vibrant array of street food joints, open spaces, fine-dining restaurants and quaint cafes – Mumbai is the hub of food events, fests and workshops. So, whether you want to learn French cuisine or enjoy the extravagance of Awadhi cuisine in the city – there are plenty of options. If you are looking for bigger food destinations in Mumbai, Navi Mumbai Food Truck Fest and The Grub Fest are your answer.
Navi Mumbai Food Truck Fest The event is known to bring amazing street food trucks from across the country for the visitors. It also showcases great music, ambience and dedicated section for the children. The fest is primarily known for or a wide range of options in delicious cuisines, flea stalls, and many more fun activities.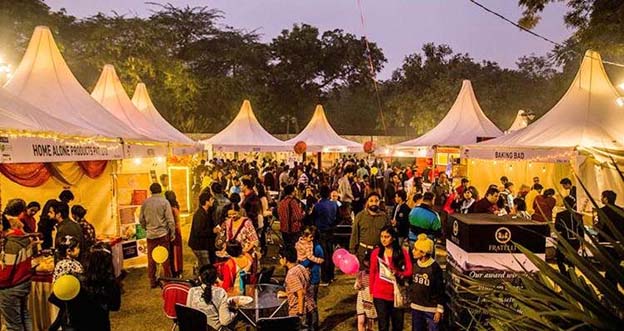 The Grub Fest With a perfect blend of food and entertainment, this premier food festival is a must-experience for foodies. The event includes popular restaurants from the city, culinary workshops, and an organic food market. It also has arenas for mini food trucks known as Grub Mile and food-based films. Imagine the power of food here at the event!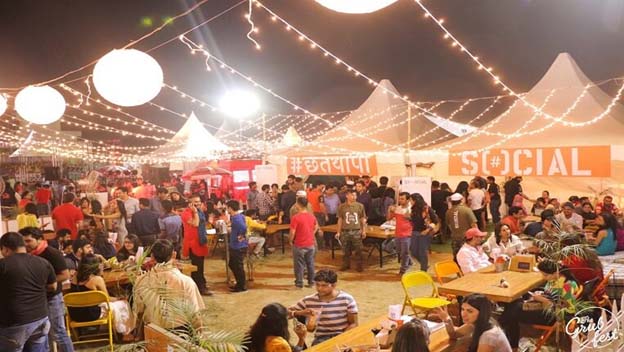 Food is an experience that brings people closer and individuals closer to one's soul. If you are looking for cafes to hang out in your free time or events to attend on culinary interests – Mumbai never sleeps, literally.
Allevents.in has much happening and upcoming Food & Drinks events in Mumbai listed for food enthusiasts. Follow to know more, brunch and eat!